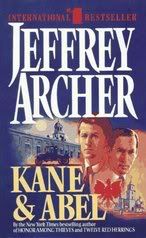 By Jeffrey Archer
On the same day, on opposite sides of the globe, two boys are born. The boys are William Kane and Abel Rosnovski. While Kane is gold, Abel is steel.

The style of writing is typical of Jeffrey. The two stories are parallely running in a way that one chapter is dedicated to Kane and the consecutive one to Abel. The style continues till they finally meet.

Again Archer weaves the story into history by beautifully portraying the characters involvement in Titanic and WWII.

The two boys are the deadliest enemies and the fastest friends. One is from Poland the other one from US.

The story is a thriller jampacked with action, drama and business.

And the most beautiful thing is the two characters met only thrice in their life and still always think of one person that is each other only.

Once I picked the book, I couldn't keep it down and read it in 2 days. The funny thing was that it is during my final exams of engineering I picked this book. I needed to prepare for the exams but at the same time couldn't forgo the lust of the novel. So, along with my batchmate I studied it in a manner that I used to read one chapter of the novel and then pass it on to my friend. And studied the course till he didn't give it back to me. This way we spent two days reading the book and course and if I talk about food, then it was only water for two days. Such is the grip of this book.